I am not sure where the week has gone but regardless it is time to announce our next card fo the week winner. Everyone who submitted a card last week did an amazing job with the Diva challenge! There were so many fabulous creations and we apprciate each and every one of them!
So with out further delay, this weeks card of the week belongs to:
We loved . . . . everything about this adorable card! The penguin is so much fun and the way she diva'd the little guy out with a crown and bow is just too cute for words!
Here is you card of the week award: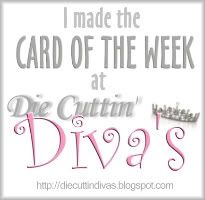 Thank you so much to everyone who played along and we cannot wait to see what you create next!